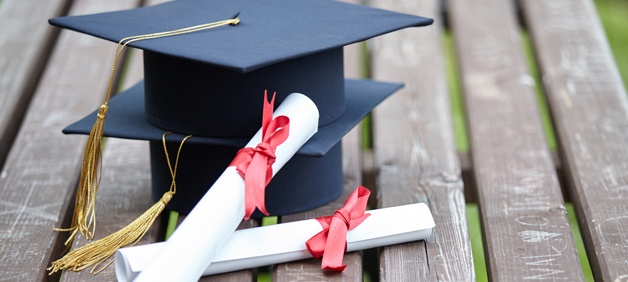 For many students, the pursuit of a bachelor's degree is stressful enough that the thought of starting a master's degree immediately after graduation seems impossible. But what if you could start on a master's degree, take graduate courses – while still as an undergraduate student? Well, then, that changes everything.
I get a lot of complex and detailed questions from students about the Bachelor's to Master's Program. Some students are interested because their job requires it, or they want to change careers. But ultimately, everyone who applies to the program wants to save time. They just don't know how to start. And that's where I come in.
What is the Bachelor's to Master's Program?
The Bachelor's to Master's Program at Thomas Edison State University allows you, as an undergraduate student, to earn up to 12 graduate credits (that's four courses!) that will apply to both your bachelor's degree and a master's degree at the University – at the same time. So if you're serious about earning a master's degree, the program lets you get a 12-credit head start toward that goal, and at the undergraduate tuition rate.
How Does it Work?
To be eligible for the program, you must be an undergraduate student with at least 60 undergraduate credits toward a bachelor's degree at the University, a minimum GPA of 3.0 and at least three years of degree program relevant experience. Upon acceptance, you are conditionally admitted into the graduate program of your choice. However, you cannot take your first graduate course at the undergraduate tuition rate until you have completed 90 credits at the University with an overall GPA of 3.0.
Your ability to take advantage of the program depends on the courses you have already completed and applied to your degree. Obviously, you can't take any graduate course you want. You must have room in your bachelor's degree for these graduate credits, either as a free elective (any college credit will meet this requirement) or, in some cases, these courses can be used in your area of study.
For example, if you are finishing your BS in Technical Studies, and interested in a Master of Science in Applied Science and Technology degree, the four courses you may want to take are:
APS-510: Project Management for Technology
APS-602: Managing People in Technology Based Organizations
APS-610: Cost Estimation and Financial Management for Engineers and Technologists
THC-625: Technology and the Human Community: Challenges and Responses
In this case, all four courses are required for the master's degree, and would be accepted as free electives toward your bachelor's degree. Meanwhile, Project Management (PJM-510) is a graduate course that would fulfill the project management requirement of your undergraduate degree and also fit the area of study section in the BSAST program.
How Can I Apply and Get In?
As always, it's critical that you talk to your Academic Advisor to make sure you can meet all the requirements of your degree before applying to the Bachelor's to Master's Program.
If you are a current student, contact the Office of Academic Advisement at (888) 442-8372 or academicadvising@tesu.edu to determine your eligibility for the program. (HINT: Include your current degree program in the subject line of your email so the advising department can quickly spot your message.)
If you are an applicant or a prospective student, contact the Office of Admissions at (888) 442-8372 or admissions@tesu.edu. New students can apply online and select the Bachelor's to Master's Program in section four of the application.
We all have our reasons whether or not we want to pursue a graduate degree. But a 12-credit head start can make all the difference in that decision. The choice is yours.

Written by Donald Cucuzzella

Donald Cucuzzella is the assistant director of the School of Applied Science and Technology, specializing in the University's aviation and allied health programs. Between helping students figure out how professional certifications can apply as college credit and what it's like taking online courses, his goal is to help students feel comfortable coming back to college. Connect with him via email at dcucuzzella@tesu.edu.