Heading back to college after several years can feel overwhelming, if not downright daunting. It may seem as if there is so much more information to review and decisions to be made than ever before.
However, you are not alone, regardless of where you are on your educational path. So as you embark on this new chapter in your life, the University has launched an introductory course aimed at helping you navigate the ins and outs of your college education.
As a new undergraduate student, the very first course you will register for is TES-100: Cornerstone Lifelong Learning Strategies. Designed to acclimate you with the University, you will explore the various ways to earn credit, gain knowledge of the institution's procedures, policies and resources, learn specific strategies for academic success, and discover where (and to whom) to direct questions so you can make the decisions that are right for you.
Whether you need help taking a TECEP®, applying for financial aid, speaking with an advisor about your degree program, registering for a course, inquiring about special services or understanding the online course space, the Cornerstone course contains all of the information you need to know to navigate your way to graduation day.
Here's what you can expect in TES-100: Cornerstone Lifelong Learning Strategies.
1. The Cornerstone course is self-directed.
Self-directed online courses provide you with the opportunity to learn independently and without supervision. Like our e-Pack® courses, you have the freedom to move through the Cornerstone course at a pace you control. It is structured so you can complete a series of lessons in any order you choose. TES-100 is offered each term on a 12-week format, however, you can complete the course in less than 12 weeks.
2. There are no discussion forums.
Since the course is designed around a series of lessons with associated online questions, there are no discussion forums. This is so you can become accustomed to online learning at your own pace, while you focus on strengthening your writing, math and information literacy skills.
If you have any issues regarding login problems, course content, general policy/procedure questions or any other assistance as you work your way through the course, send an email to cornerstone@tesu.edu. Or, contact Enrolled Services at (888) 442-8372 for non-content related questions to the course.
3. Grades are recorded as CR (Credit) or NC (No Credit).
Grades for TES-100 are recorded as CR (Credit) or NC (No Credit) on your transcript and will not affect your GPA. To receive credit for the course, take the Readiness Exam (see below), submit the exam questionnaire, complete all six required lessons and answer the associated online questions within each lesson with a score of 60 percent or higher. This will result in a grade of 100 that will count toward your completion of the course. After completing TES-100, you will earn 1 credit that can be used toward an elective requirement in your degree program.
4. The course requires that you complete a Readiness Exam.
The Readiness Exam component of the course requires that you complete an assessment called the ETS® Proficiency Profile. This assessment tool is designed to measure knowledge in the core areas of reading, mathematics, writing and critical thinking.
The exam is in an unproctored, online format, and you can take it at any time within the course's 12-week timeframe. All of the information needed to answer the questions is presented in the exam. The questions are not intended to test specific knowledge in each of the fields. Your scores are based on the number of questions answered correctly.
5. The Cornerstone course is composed of six required lessons.
Each lesson in TES-100 contains reading material and video content. After reading the course material, watching the videos and progressing through each of the lessons, you will answer a series of online questions found within each of these lessons:
Ways to Earn Credit

: Explore the various ways to earn credit, including online courses,

prior learning assessment (PLA)

,

TECEP®

or other testing programs, professional training and credentials.

Learning Outcomes

: Understand the importance of learning outcomes and how they dictate what you should be able to do by the end of a course, program or degree.

Academic Policies

: Examine significant University-wide and undergraduate academic policies to help you make appropriate decisions related to your education.

Academic Integrity

:

Learn what constitutes plagiarism and how to avoid it.

Admissions and Enrollment Services (AES)

: Understand the administrative processes and procedures associated with completing your degree, allowing you to focus on your academic journey.

Strategies for Success

:

Explore the tips, strategies and tools you need as a college student, including information about discussion forums, course objectives,

rubrics

, written assignments, testing resources, University resources and more.
Watch the following video for a sneak peek at some of the highlights and features of this comprehensive introductory course.
Congratulations on your decision to invest in yourself and finish your degree. We can't wait for you to begin writing that next chapter.
Every graduate has a story. What will yours be?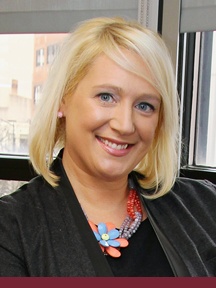 Written by Heather Russino

Heather Russino is an instructional designer at the Center for Learning and Technology. A Columbia University graduate and educator for nearly 20 years, she began her career as a classroom teacher before moving to higher education as an adjunct professor. She is an established, professional blogger since 2009 and enjoys writing about her areas of expertise in teaching, learning and course design – integrating content, pedagogy and technology.