When you are heading back to college, applying, enrolling and registering are all terms that sound like they explain the same thing. So does it matter which term you use or when you use it?
Definitely, yes.
In fact, most applicants and prospective students are unaware that there is any difference at all. In fact, I often hear the terms used interchangeably. Someone might say they "registered last week" when they meant they applied and submitted the application.
While other institutions may use the same terms, it's important to note that even they might have a different definition for each one. Knowing the differences among applying, enrolling and registering at Thomas Edison State University and what they mean for you is essential to navigating your way through the administrative tasks of earning your degree.
To help you understand all three terms, I'll explain the nuances of each below as well as provide some guidance on what you can expect as a student at each stage.
Apply
When you apply, it means that you have officially submitted your application online. This includes clicking on the 'Apply Now' link on the website and creating an account, if you haven't already. Then fill out the application completely, pay the application fee and submit your application to the Office of Admissions.
Your application is valid for 12 months from the date you are admitted, or receive your acceptance, to the University. If you have any questions about applying or want to know more about the degree program you're interested in, admission counselors are only a phone call or email away at (888) 442-8372 Option 2 or admissions@tesu.edu.
Enroll
After you apply and receive your acceptance to the University, you enroll by choosing a tuition plan, or enrollment option. For undergraduate degree seekers, those options are the Full-Time Flat Rate Tuition Plan and the Per Credit Tuition Plan. For graduate, nursing and military students, only a per-credit plan is available.
The Full-Time Flat Rate Tuition Plan is a term-based plan that allows you to register for 10 or more credits in a single term, while you can pay for each credit as you go with the Per Credit Plan. If you enroll in the Per Credit Tuition Plan, you pay for those credits at the time you register for a course.
To estimate your tuition costs and determine which option is a better value for you, first figure out how many credits you plan to take within the year. Then check out this handy chart to compare the costs of each tuition plan for the amount of credits you want to pursue.
So by selecting a tuition plan, it signifies that you are ready to begin taking courses. To select a plan, you can go through your Online Student Services account or call the Office of the Bursar at (609) 984-4099. You will then be enrolled for 12 months from the date you chose that tuition plan. Of course, you aren't locked into that option forever. If in the following year you plan to take significantly less, or more, credits, you can enroll in the other tuition plan. If you're ready to enroll and still have questions, Enrolled Services can assist by calling (888) 442-8372 Option 1 or emailing enrolled@tesu.edu.
Register
Registering simply means you are selecting specific courses to take for a specific term. When you register for a course, whether it is an online course, e-Pack® course, Guided Study course or TECEP® exam, you are reserving your spot in that course.
You can select a course and register through your Online Student Services account, which can be accessed through the myEdison® portal. If it is your first time registering for a course, watch this video for a step-by-step tutorial on how to search and select your first course in Online Student Services. If you chose the Per Credit Tuition Plan, Online Student Services is when you pay for those course's credits.
You can also register and pay for courses by calling Enrolled Services at (888) 442-8372 Option 1.
So, after you have applied, enrolled and registered, it's time to focus all your efforts and energy on just one more step - your course work!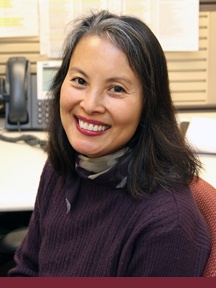 Written by Bonnie Jean Gallagher

Bonnie Jean Gallagher is a counselor in the Office of Admissions and Enrollment Services, where she enjoys helping students figure out the degree program that best fits their background and future goals. Her motto is "all questions are good questions," so email her your degree queries at bgallagher@tesu.edu.