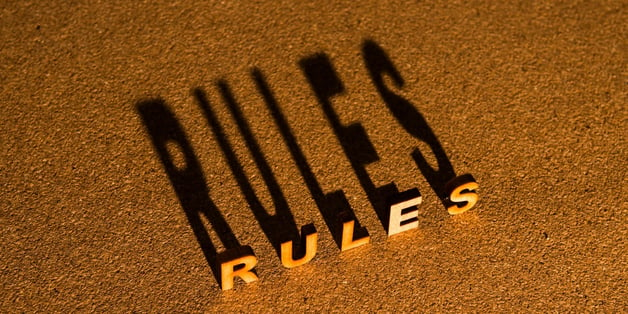 Transferring credits not only means a shorter time to degree completion, but also less strain on your wallet. But figuring out on your own which credits are transferrable is not always possible. Meanwhile, requesting transcripts from any colleges and universities you previously attended can seem time consuming. At times, it's hard to keep track of it all. So how can you make the transfer process as simple as possible?
To help guide you, here are my five fundamental rules for a smooth transfer credit process so you can get started earning the credits you need to finish your degree.
Rule #1: Credits must be from a regionally accredited college or university.
The accreditation of the college or university where you took your courses is a critical factor in the transfer credit process. Most institutions are either regionally or nationally accredited, which means they are evaluated by different independent groups recognized by the U.S. Department of Education. Credits earned at a nationally accredited institution cannot be transferred to a degree program at a regionally accredited institution.
Rule #2: Official transcripts must come from each previously attended institution.
Most colleges and universities have their own transfer policies and, as a result, tend to transfer credits differently. This is why it is always best to send an official transcript from each previously attended school, even if you transferred credit from one institution to the other at any point in your academic career. This ensures that every individual course is reviewed accurately and correctly.
Rule #3: Foreign credits must be evaluated by a foreign credit agency prior to being transferred.
Most U.S. colleges and universities will not evaluate transcripts from other countries. However, they will accept official transcripts processed by an approved foreign credit agency. These agencies evaluate foreign transcripts on a course-by-course basis and make credit recommendations for U.S. institutions.
Rule #4: Use a secured electronic delivery system for sending transcripts.
A secured electronic delivery system is the safest and quickest way to have your official transcripts sent to another college. Services like eScrip-Safe and National Student Clearing House eliminate waiting for snail mail deliveries and reduce the risk of your transcripts getting lost in the mail. You'll want to be aware of which electronic delivery systems are acceptable as some institutions only work with a select few.
Rule #5: Don't forget about credit from untraditional sources.
You may earn credit from untraditional sources, like licenses and certifications, exam programs, military training and professional training reviewed by the American Council on Education (ACE), National College Credit Recommendation Service (NCCRS) or the University's Office for Assessment of Professional and Workplace Learning. It is an important opportunity to take advantage of your earlier efforts. To receive credit, you simply need to submit official documentation of completion that is current and valid. In most cases, that documentation may include submitting an official military transcript, a notarized copy of the license or certification and/or an official ACE transcript.

Written by Sarah Ukrainski

Sarah is a counselor in the Office of Admissions and Enrollment Services and joined the University in 2013. She earned a BSBA from Duquesne University. Sarah is a huge fan of the Pittsburgh Steelers and enjoys making annual trips with her family to Pittsburgh for games. Connect with her via email at
[email protected]