Finally, the call or email that you have been waiting for came. You got a job interview with your dream employer. Congratulations!
And yet, though excited, you can't shake feeling nervous. It seems like your whole life has amounted to this one interview. Maybe even feelings of self-doubt or the dreaded impostor syndrome have sunken in. This job could change everything for you. So, you are ready to do everything in your power to get that job offer in hand and demonstrate that you are a great fit for the role.
This is where the right preparation is crucial. How you prepare could be the difference between giving off an authentic, confident and competent aura, or a flustered, distracted and incompetent one. Ultimately, which candidate would YOU want to hire if the tables were turned?
Take the opportunity and time to prepare yourself ahead of your job interview. After all, no one ever regretted being too-prepared, right? So, here are a few practical tips to be ready for that interview:
1. Plan What to Wear
This is the time to wear that all-important suit. For men, that means a full suit and tie, suit jacket included. For women, a suit or blazer over a professional top or dress is best. You want to look professional, but also be yourself while being comfortable. Rather than just picking out your outfit and keeping it clean, test fit your outfit a day or more before the interview to make sure no buttons have come off and that everything still fits. Buff and polish your shoes as well. It's worth noting that while some jobs may not require "corporate" dress, it's important to show that you take the interview seriously. If you're not sure, as a rule of thumb, dress one level-up from what you estimate the required work attire would be.
2. Take a Test Drive
If this is an in-person interview, drive to your interview location and scope out parking and area resources such as restaurants, parks and businesses. You don't want to be late because you failed to account for common delays such as traffic or parking. It is also good to know there is a spot to freshen up before your interview at the last minute, if needed.
3. Familiarize Yourself Virtually
If the interview is online, be familiar with the software that you will be using so you can avoid any technical glitches that may hamper your meeting. Set up your camera and frame so that nothing behind you is too personal, cluttered or potentially offensive. If you are concerned about your background, many programs have a feature where you can make your background an alternate image or blurred. This will also make the background as neutral as possible and keep the focus on you.
4. Watch Your Body Language
This may be more critical for in-person interviews, but smile when you enter the meeting, stand up tall, shake hands and make eye contact when answering the individual who posed the question. If on a video call, it may be helpful to position the interviewers near the top of your screen, near the camera lens to give the illusion that you are looking them in the eye while still monitoring their facial expressions.
5. Work Your Network
Do you know anyone that works at the company where you will be interviewing? Check in with them to find out any details you can about the position, the organization as a whole, the company culture, the team you will work with and general impressions of what is important to the organization. This knowledge can help you frame your answers and highlight your fit for the role.
6. Prepare Your Questions
There are two sets of questions that every interview will have: the questions that may be asked by the interviewer and the questions that you should ask during the interview. Both are equally important as an interview should always be a two-way conversation and never one-sided.
7. Gather Your Materials
Have materials at hand that will help you feel grounded. Take printed copies of your resume and cover letter (enough for a group), a padfolio notebook and a good pen. This way you can provide your resume if the interviewer doesn't have it handy. The padfolio will keep your list of questions right in front of you so you don't forget to ask them, while also allowing for a spot to jot down a note you may want to follow up on.
8. Be Confident
This may take a little faking it until you make it, but certain body poses can help you feel your best. I've found this TED Talk that explains those poses in more detail and how they will help you put your best foot forward.
I know that following all these steps may seem like a lot. But they are well worth the effort if they make all the difference between you getting that job or not. By preparing and eliminating any stress or feelings of nervousness and self-doubt, you can put forward your best self.
Good luck!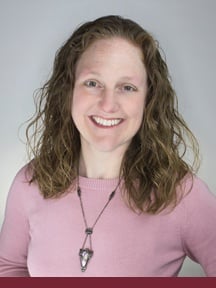 Written by Meg Frantz, MPSL '20

Meg Frantz is the director of Alumni Engagement, with a background in marketing for nonprofit art organizations and higher education. She holds a master's degree in public service/nonprofit management from TESU and a bachelor's degree in communications with an emphasis on theatre arts from Susquehanna University. Connect with her via email at mfrantz@tesu.edu.