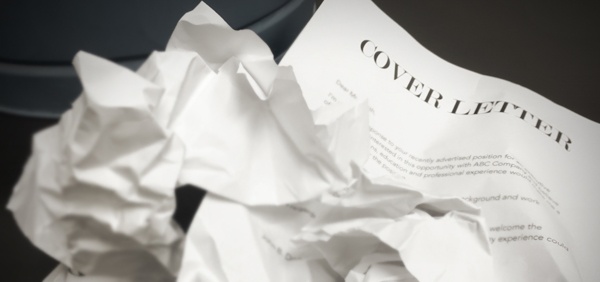 Cover letters can be difficult to write and the most annoying part of any job search.
Most employers probably toss them in the trash anyway without ever looking at them, so they're not even necessary anymore in today's job search, right?
Not so much. If your goal is to not make it to the interview round, then no, you definitely do not need a cover letter to accompany your resume.
As a hiring manager, I evaluate every cover letter I receive to see if a candidate is serious about pursuing the position I need to fill. A good cover letter can tell me something about you that your resume does not: who you are and why you are the best candidate for the job.
So, yes, employers definitely do read your cover letter. In fact, it weighs more heavily in the hiring process than you might have thought.
But how do you know if you're submitting a good cover letter? To help guide you, try my favorite tips for writing an effective cover letter that casts you – the real you – in the best light possible.
1. Know the Rules.
I once had a job applicant who, at first glance, had an extremely promising resume that made him a great fit for the role. But his cover letter was the complete opposite; he sent me a single paragraph on a sheet of paper with no salutation or clear direction. Needless to say, it caused quite a bit of confusion.
A cover letter is essentially a business letter, so make sure to write yours in the proper business-writing format. There are dozens of sites that offer great tips on how to set it up, but be sure to include the main components of a true business letter: the recipient's name and address at the top with an appropriate greeting, followed by your message.
2. Understand Your Audience.
Research the company you are applying to and take every effort to determine who is making the hiring decision. Address the letter to this person, but if it is unclear, you can address it with "To Whom it May Concern" or "Dear Hiring Manager."
This goes hand in hand with researching the position and how it relates to the organization at large. For example, I once interviewed a candidate that researched the wrong company. He couldn't speak to how the role he was applying for fit into the organization he was actually applying to. It made for a very awkward interview, and he wasn't asked back.
3. Not too Much, Not too Little.
You want to write as much as it takes to get your point across, but don't go beyond three paragraphs. The first paragraph should indicate why you are writing the letter and how you found out about the position. In the second, highlight a few details from your resume that you feel make you the perfect fit for the job. The last paragraph should indicate your enthusiasm and interest in meeting or discussing the position further.
4. End on a High Note.
Close the letter with the appropriate salutation. For an even bigger impact, scan in your actual signature and add it to the closing of your letter. These elements demonstrate that you are detail oriented rather than just saying so.
5. Market Yourself.
Your cover letter shouldn't repeat what is already on your resume. Instead of rattling off your work history, find a good balance between showcasing your skills and accomplishments, and how your skills will help you thrive in the position. Using actual examples will emphasize your strengths to the hiring manager.
Most importantly, show your enthusiasm for the role and be sincere. It will help you to stand out from other applicants with generic cover letters.
6. Coordinate your cover letter with your resume.
Save both the letter and your resume as a PDF file and submit that for the job opening so nothing shifts around. Use the same font and make sure the look of your cover letter mirrors your resume. It's those little details that will give you a more polished and professional look in the hiring process.

Written by
Meg Frantz

Meg Frantz is the director of Alumni Affairs. For nearly 20 years, she has worked in the marketing departments of nonprofit art organizations and higher education as a project manager and team leader. She holds a bachelor's degree in communications with an emphasis on theatre arts from Susquehanna University. Connect with her via email at mfrantz@tesu.edu.