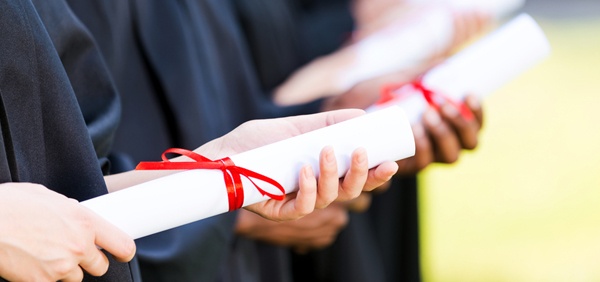 Every day we are faced with a multitude of choices:
Turn left or right?
Soup or salad?
Early bedtime or one more TV show?
If you are planning to go back to college, there are even more things to consider. Between tuition plans, course schedules and areas of study, the answers may or may not be that easy. But perhaps one of the most common choices you will make is if you should choose a bachelor of arts (BA) degree or a bachelor of science (BS) degree.
Of course, depending on your area of study, this question could already be answered for you, as some programs only fall under one category or the other. But for the areas of study where you do have a choice, what exactly is the difference?
The Similarities
Both degrees are built around the same three concepts:
General education: Courses that offer basic level education in a variety of subjects such as humanities, social sciences and/or natural sciences.
Area of study: Courses that provide breadth and depth in a particular academic discipline or professional field.
Electives: Courses that allow you to choose from any subject area you prefer or need.
To satisfy the requirements for either baccalaureate degree, you will need 120 credits.
Why Choose a BA Degree?
A bachelor of arts degree expands on the general education curriculum by focusing on subjects from those academic disciplines, such as arts, humanities, history, communications, social sciences, etc. The areas of study requirements tend to require fewer courses than the area of study for a BS degree. Also, these degrees are typically less specialized and require more elective courses that offer students more flexibility in their course choices.
Why Choose a BS Degree?
A bachelor of science degree focuses on applied technical or business subjects, such as engineering, physical science, and allied health. A BS degree is designed to prepare students for a specific professional field. The areas of study requirements also require more courses than a BA degree so as to prepare the student for a career in that chosen subject area. Bachelor of science degrees tend to have fewer electives and a more structured academic plan, which typically offer students less flexibility in their course selections.
Which Degree is Better?
There are some subjects that may be required for both a BS degree and a BA degree, but, academically, both of these degrees are equally valued. A bachelor of arts degree is not better than a bachelor of science degree, or vice versa. Both undergraduate degrees would provide you with the opportunity to continue your education at the graduate level. Of course, some employers, by nature of the industry and the work, may prefer one to the other.
If you are faced with the choice of deciding which degree to pursue, examine the requirements as a whole. Look at the courses required and the credits necessary to complete the degree program, and then decide from there which degree fits your academic and career goals.

Written by Donald Cucuzzella

Donald Cucuzzella is the assistant director of the School of Applied Science and Technology, specializing in the University's aviation and allied health programs. Between helping students figure out how professional certifications can apply as college credit and what it's like taking online courses, his goal is to help students feel comfortable coming back to college. Connect with him via email at
[email protected]