When I started in my role in October 2016 as the Thomas Edison State University (TESU) director of Alumni Affairs, I kept thinking how hard it was going to be for me to engage our alumni given the lack of a physical community. As a graduate of a traditional brick and mortar school, I have such affection for my alma mater, especially the campus experience. What I quickly realized, though, is how much our alumni feel connected to TESU and to each other given the experience they have all gone through. It didn't take long for me to realize I had to be an alumna as well. I needed to be a part of the "cool club" that I am so proud to represent each day at the University.
Getting Started
I had been working in higher education since 2002, and it was past time to pursue an advanced degree. Being a TESU staffer, I was fortunate enough to be able to chat with colleagues in admissions, advising and portfolio review and with co-workers that had already graduated to determine the best path for my master's degree. We talked about the degree options that were the best fit for my future career goals and also talked about how much time I was going to need to set aside each day to accomplish the work.
I quickly honed in on the Master of Public Service Leadership with an emphasis in Nonprofit Management as the best degree to pursue. My entire career has been in the nonprofit sector, and that is where my heart lies. Be it the arts, education or the environment, I am always drawn to the work that needs to be done to further those missions. I applied, was accepted and then spent a weekend before my first course stocking up on household supplies and cooking meals to fill the freezer for the extra busy days ahead.
And then I was off and running in July 2017. I dedicated a couple of hours each evening to my studies and quickly found my new rhythm. I started by doing one course at a time, but then life interceded. Like anyone else out there, life didn't stop just because I was pursuing a degree. As adult students, we still have families to care for, jobs to accomplish and life activities to pursue.
Experiencing Hurdles
About a year into my studies, my mother-in-law fell ill and had to transition to her next level of life care. My husband is an only child, and so I made the decision to pause my studies to pack up her apartment so he could be with her during the emotional and physical challenges she was facing. We spent six months getting things organized and settled, and when it was time to come back to my TESU coursework, I decided to register for two courses so I could stay on track to meet my personal completion goal of June 2020.
The heartbreak didn't end there. I lost an aunt, an uncle and our beloved cat during those three years, but having my course work gave me something to hang onto to keep me going during the tough times.
Staying on Track
Two classes at once is no joke. Each day was an exercise in organization and time management. But I felt even more connected to the course work and to finishing my degree program. I had two classes that were diverse, so they kept me engaged as I moved through the work. Who knew how interesting grant writing would be or that there are so many ways for a nonprofit to approach its work?
I was blessed to be able to travel and still spend quality time with family and friends. During the three years of my studies, we traveled to more than 20 states and continued a passion for bird watching. There were many hours of studying in cars, airplanes, football stadiums and waiting rooms. My critical-thinking skills that were being developed not only helped me with my work at TESU, but also to figure out how to prioritize the never ending to-do list at home.
Finishing My Degree
These past few months have been an emotional roller coaster with the pandemic. I was so grateful that I had my Capstone course during the spring months to help distract me. I am also grateful for the wonderful celebratory activities that TESU is providing for me and my fellow graduates from December 2019 through September 2020. While being in person for our ceremony will be the icing on the cake next year, the virtual ceremony and delivery of the Commencement Celebration Box is a great way to celebrate in the meantime. My husband and I have enjoyed the excitement of the last day of course work, the notification of courses being complete and the letter from TESU's president letting me know my degree has been conferred. It truly takes a village to accomplish big things, and I am so proud to now be an alum of TESU and practice what I preach.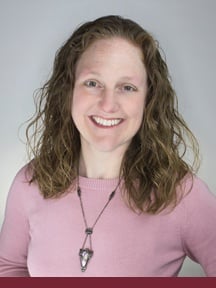 Written by Meg Frantz

Meg Frantz is the director of Alumni Engagement, with a background in marketing for nonprofit art organizations and higher education. She holds a master's degree in public service/nonprofit management from TESU and a bachelor's degree in communications with an emphasis on theatre arts from Susquehanna. Connect with her via email at mfrantz@tesu.edu.