How many times do you say to yourself that you need to do more career networking? You have great skills and talents, and networking might help the right people discover you. In today's marketplace, achieving your professional career goals relies more on networking than ever before, but for many it can be intimidating.
If you are ready to meet new people face-to-face, there are numerous networking events related to your industry, interests and career. To find one to attend, do a simple Google search. Many are often near you, including Thomas Edison State University student and alumni events held around the U.S. every year.
If you would rather not attend an event in person, LinkedIn can help you connect on a more personal level and grow your network in an environment you may feel more comfortable, if you know how to use it to your advantage. If you're looking to expand your network or looking for a job at a specific company, in a particular industry or in a certain location — or are just curious where Thomas Edison State University alumni work—the LinkedIn Career Insights tool makes finding those people easy.
Here's how it works.
Visit the Thomas Edison State University page on LinkedIn and click on 'See Alumni' to start.

At the top of the section, you will see three subheads: 'Where they live,' 'Where they work' and 'What they do.'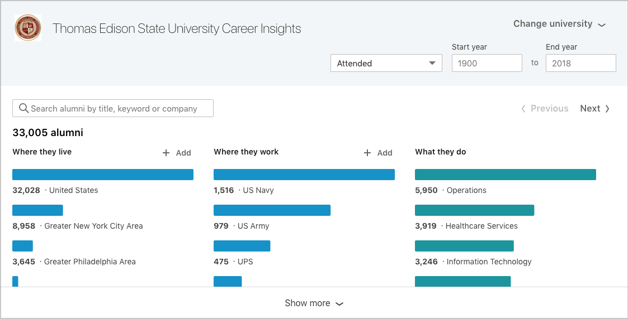 Click 'Next' to view additional categories, which include 'Where they studied,' 'What they are skilled at' and 'How you are connected.'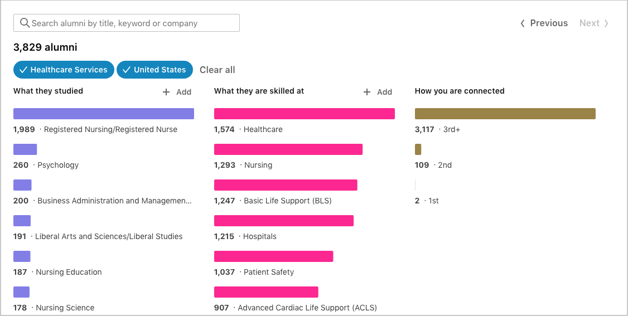 All the graphs are interactive: click any of the bars to drill down and refine your search. Clicking on 'Healthcare Services,' for example, will display information about alumni in that field, including the companies they work for and the speciality in which they work. Below the graphs, you will find a listing of alumni profiles that fit your chosen categories.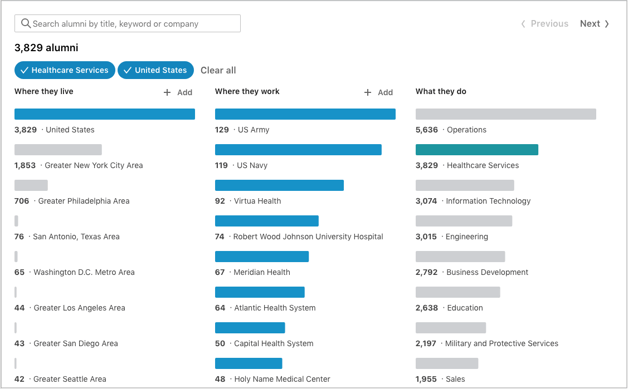 For example, if you're job hunting and know you want to work for Johnson & Johnson, use the Career Insights tool to find alumni that work there and/or fit your area of study.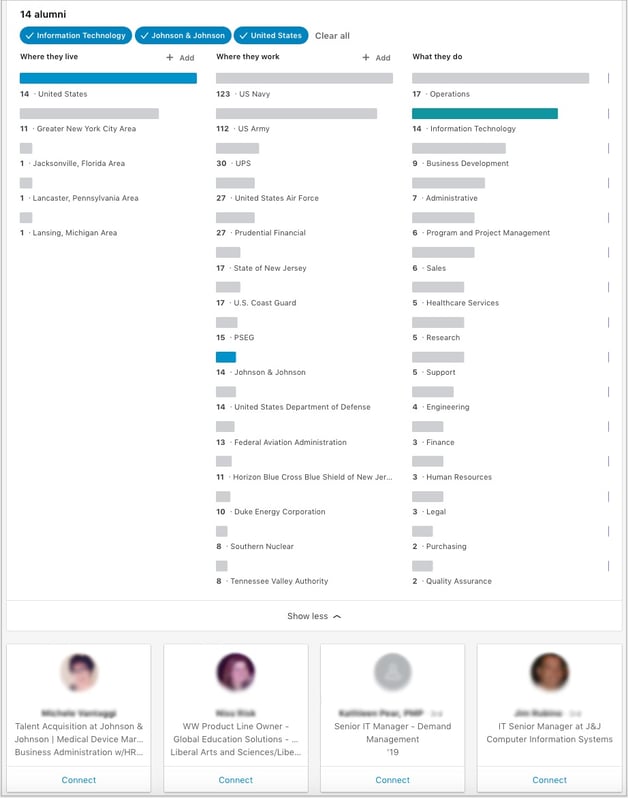 If the company doesn't appear in the top listings, search for it specifically in the search bar. Then, select 'What They Do' to match your background or field. For example, by searching for alumni that work at Google, the Career Insights tool yields this: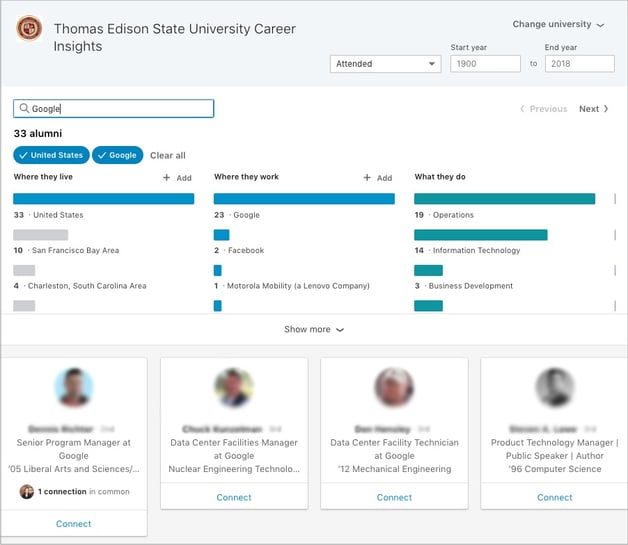 So You've Found Alumni To Connect With. Now What?
What do you do with the information you've just found? Starting a conversation on LinkedIn can be easy, if you ask the right questions. Most people are eager to discuss their background or offer advice. Try asking questions that open up dialogue, expose you to views and lend themselves to valuable advice, like:
How did you get started in your career/industry/field?
What do you enjoy most about what you do?
What advice may you have for someone interested in a similar path?
Of course, there are no set guidelines when it comes to career networking; it is what you make of it. But having confidence and a willingness to learn can get you far. Whether you are a student just beginning to look at what the industry can offer, or a professional seeking a new career opportunity, networking is the key to success.
---

Written by Thomas Edison State University