It wasn't always clear to me what my true calling was before college. But growing up with my mother who was lawyer gave me valuable exposure to the profession.
While at Thomas Edison State University, I became seriously interested in pursuing a law degree. I finished my BA degree in Communications in two years with no debt. This set me on a positive path for continuing my education.
Legal practice fits so well with my personality. A big motivation for me is helping others accomplish their goals and missions. I also recognized that I'm naturally a logical, structured person that enjoys solving problems creatively within a given structure, which is exactly what lawyers do in many ways.
After Graduation
After completing my undergraduate degree, I invested a year and a half as a legal assistant and decided law was indeed my true calling. I received offers of admission from six law schools, with substantial scholarship offers from each, including two full-tuition scholarships. I decided to finish my JD at Wake Forest University School of Law.
My transition from online college education to on-campus law school felt very natural. I majored in communications, and that education was a great foundation when I went to Wake Forest. Getting my degree through TESU taught me a lot about developing discipline and taking responsibility for my education. Those lessons served me well as I entered into the immensely rigorous and challenging law school environment.
Most importantly, faith is a big part of my life. I attribute my achievements at law school to God. Support from my church family also played a vital part during my law school years. It is important to have something to fall back on when you are going through a hard time. It is also important to be part of something bigger than yourself.
Launching My Law Career
In May 2020, at the age of 24, I graduated Summa Cum Laude with a Juris Doctor degree from Wake Forest and was ranked number one overall in my class. I was also inducted into the Order of the Barristers and Order of the Coif.
As a lawyer, I plan to use my skills and education to do several things, like helping develop a strong system of order and justice that the rule of law seeks to provide society as well as giving back to the community by providing legal services to those who cannot afford them, but who need them.
I had already started on that latter goal during my law school years as a student attorney with Teen Court, a program to divert first-time juvenile offenders out of the juvenile system, giving them a chance to make amends and keeping their offense off of their record. I found this a powerful opportunity to help kids get a second chance, while ensuring that they understood the future consequences of their actions.
Right now, I am serving a one-year term as a judicial law clerk for the Honorable Adam M. Conrad, Special Superior Court Judge for Complex Business Cases, at the North Carolina Business Court in Charlotte, N.C. After that, I will joining Womble Bond Dickinson (US) LLP as an associate in the firm's business litigation group.
I love the idea of justice, which is central to the legal profession. The law touches people's lives in so many ways that they don't even realize – it is one of the key elements that supports our society and keeps things running. For me, it's humbling to be a part of that in some way and to help others navigate the challenges and benefits that come with the legal framework we have.
I still find connections to my TESU years through my Capstone project, The Relationship Between Digital Technology and the Interpersonal Communication Skills of Generation Y. People still read the article and talk to me about it, which is very interesting!
My Advice for Students Interested in Pursuing a Law Degree
As for advice to students interested in going to law school after TESU, I encourage you to first find a purpose in going to law school. Law school is intense and grueling, but it's also an incredible experience. Having a strong purpose for pursuing a legal education can really make a difference when school gets tough, which will inevitably happen.
Next, work hard to keep your GPA up during college, and take the LSAT exam seriously. Some law schools may not be familiar with less traditional education approaches like TESU, so demonstrating ability through grades can be helpful.
Finally, build more than just academics on your resume. Law schools are looking for students who are invested in their community and who not only can excel in the classroom, but also outside of the classroom. Lawyers are leaders and relationship builders, so those factors are really important, not only to get into law school, but also to thrive while in school.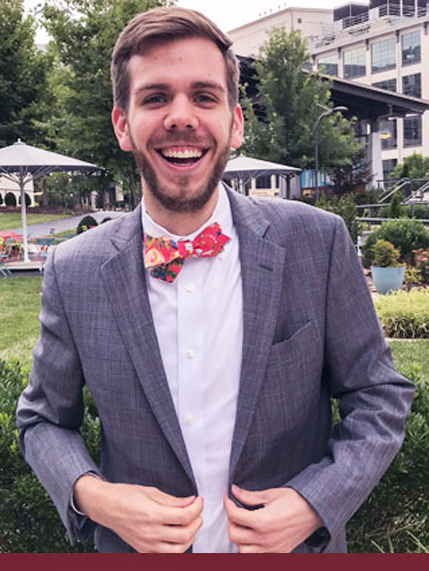 Written by Matthew Hooker, BA '16

Matthew Hooker is a law clerk to the Honorable Adam M. Conrad at the North Carolina Business Court. He received his JD from Wake Forest University School of Law in 2020 and his BA degree in Communications from TESU in 2016. Matthew originally hails from the Maryland side of the Washington, D.C., suburbs, but is now happy to call North Carolina home.