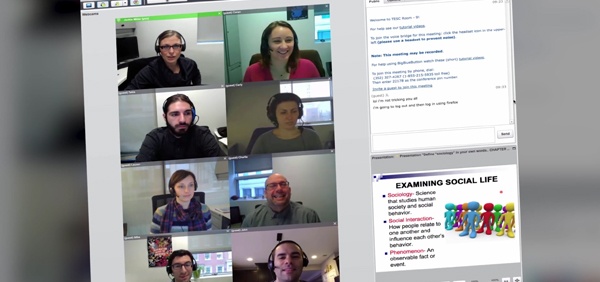 If you've ever participated in a group project, you probably have pretty strong opinions about them. Perhaps you find working more closely in a team-oriented atmosphere refreshing. Or maybe, you find group projects can lead to frustration, especially when your classmates have different work schedules and preferences for varying technologies.
So for the online learner, how can group interaction and collaboration be easier to manage?
Thomas Edison State University has implemented Edison Live!, a tool designed to make collaboration in a virtual environment with both mentors and classmates a more engaging experience.
What is "Edison Live!"?
Edison Live! is a web conferencing platform designed for online learning that allows students and mentors to view and listen to presentations, ask questions and even participate in group conversations. It brings the face-to-face classroom environment directly to the online learning space, making it possible to host both synchronous and asynchronous events. Edison Live! allows remote students from all over the world to converse with one another and share presentations in real time. We're talking realm of reality meets the virtual environment - how awesome is that?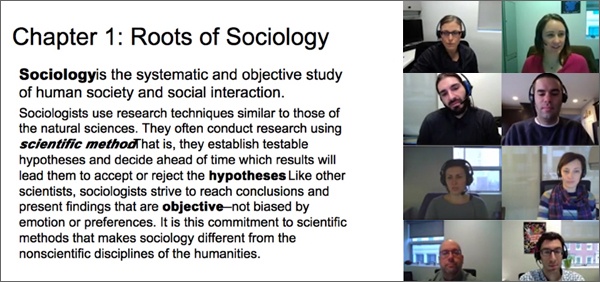 Why is Edison Live! Coming to My Online Courses?
Edison Live! is easy to use in an online course and immediately brings the classroom to life. When you use this technology, you are more than just the "avatar" displayed next to your profile. You can converse with classmates through videos, host group sessions and work collaboratively on projects – all in real-time.
What are Some Ways I Can Use Edison Live! in My Courses?
Meet with your mentor during office hours: Hoping to chat with your mentor about an upcoming assignment or did you need more help understanding a new concept reviewed in class this week? Instead of sending an email, consider setting up a time to speak directly with your mentor through the office hours in Edison Live!

Meet in groups via the virtual classroom: Edison Live! is a virtual classroom where you can meet with fellow students to chat or discuss a current project or other course related topics. It provides a useful space to work through a difficult problem, collaborate on a group project or seek advice from classmates on a particular assignment.

Host a one-to-one or small group discussion: Looking to connect with some classmates but not the whole class at once? Setup a time to talk with a small group using the Edison Live! conferencing tool. You can discuss topics as a group, share notes or even upload a media presentation.

Live stream or record and share presentations: Mentors and students have the ability to use Edison Live! to either live stream or record and upload a demonstration for future viewing anytime; the presentation can be performed live in front of the class or a small group, but it can also be recorded for viewing at a later time. This tool is particularly helpful if a mentor wants to demo a particular concept or topic, and using the whiteboard and other features of an Edison Live! recording truly brings the concept to life.
Take a sneak peek at this short video and watch how you can collaborate with your mentors and classmates more closely than ever before – and stay tuned as Edison Live! becomes available in your upcoming courses.

Written by Heather Russino

Heather Russino is an instructional designer at the Center for Learning and Technology. A Columbia University graduate and educator for nearly 20 years, she began her career as a classroom teacher before moving to higher education as an adjunct professor. She is an established, professional blogger since 2009 and enjoys writing about her areas of expertise in teaching, learning and course design – integrating content, pedagogy and technology.