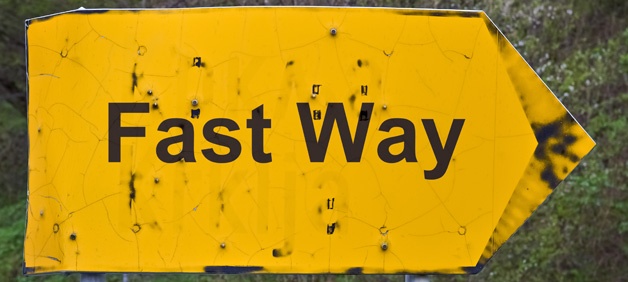 A college degree is more important to job seekers and career changers than ever before. If you're like most students, you already know that – but you also know college tuition costs are expected to continue to rise.
Aside from taking advantage of the many distance learning activities available to students – including earning credits by exam – the surest way to shorten the time it takes to earn your degree is to make sure you're focusing on the right things at the right time. Here are some tips to help you do just that.
Make a plan… and stick to it!
With a well-crafted degree plan, you'll know exactly how many courses you need to take each term. This also will give you some certainty when it comes to price and the time you'll need to complete your degree.
Here are four things to keep in mind as you come up with your plan.

1. Pick a tool you're comfortable with
There are a lot of free degree-planning tools out there. In fact, your school probably offers one. Seriously, go Google it, we'll wait. ☺
You're back? Great. Did you see one that you liked? Whether or not you did, the key is to not get sidetracked. Look at a few options, browse or ask around at a trusted forum, and then pick one you find easy to use.

2. Know your goal
For some, college is a time of self-discovery and exploration. There's nothing wrong with that approach, but for others the pressures of family responsibilities and work commitments mean you're especially pressed for time.
If you fall into that second category, the key thing to keep in mind is that smart planning – even if a little more time consuming up front – can be a huge time and money saver in the long run.
Knowing what degree you're pursuing, all of the requirements you'll need to meet to earn it, and how the degree and the courses you'll take will help you achieve your personal or career goals are key to coming up with an efficient and effective plan.

3. Know your options for earning credit outside of traditional classes
It used to be that the time it took to earn your degree was largely a function of how many hours you had available to spend in class. For students that needed to maintain a full-time job while also attending school, it could take years longer than average to graduate.
Nowadays, there are a lot of different options available for students to demonstrate knowledge – and earn college credits for doing so! These two will make the most sense for most people:
Transfer credits: Thomas Edison State University has one of the most generous transfer policies in the country. Some other schools do place limits on how many credits they'll allow you to transfer in from other institutions, but you should make sure to fight for every credit you can. You already passed the course -- you deserve the credit!

Credit-by-exam: Being able to "test out" of a course can be a great option for certain subjects. For instance, you can take an exam to earn credits in place of general requirements courses, electives – especially those for which you already have some knowledge. Once you've identified a list of such courses in your degree plan, your next step is to find the ones you can test out of by checking the current list of available tests, and then searching for a nearby testing center.

4. Fill in the gaps
Once you've gotten college credit for your prior learning and identified the courses it makes sense to test out of, all that's left is to identify what courses you need to complete. In many cases, these will be the core courses of your major – which is perfect because these are the courses where you'd want focused instruction.
In planning ahead, the first thing you should account for are any courses that aren't offered every semester. The last thing you want to do is set yourself up for a "Senior Surprise," where you get to what should be your last semester, just a few credits shy of graduating, only to realize the course you need isn't offered until the spring semester of the following academic year. By making a plan at the start of your studies, you'll be able to plan around any irregular offerings.

You're ready to go!
That's all there is to it. Make a plan, stick to it and get all the credit you can for what you've already learned. Whether you save one course's worth of tuition, an entire academic year, or more, following these steps will help you understand and meet your goals in going back to school and graduating sooner.

Written by DSST Credit by Exam Program

The nationally recognized DSST program gives students the opportunity to receive college credits for learning acquired outside the traditional classroom as a form of prior learning assessment. Recommended for college credit by the American Council on Education's College Credit Recommendation Service (ACE CREDIT), DSST offers more than 30 exams in diverse college subject areas such as Social Sciences, Math, Applied, Technology, Business, Physical Sciences and Humanities.