Qualifications.
Employers favor them. Candidates want to develop them. But what does this factor even mean? And how can candidates and employers share the same definition of qualifications?
For the past three years, Gallup, Inc. and the Lumina Foundation have released an annual survey, What America Needs to Know About Higher Education Redesign, gauging the American public's perception of higher education, including workforce readiness. This year, in addition to this poll, a second survey was conducted of business leaders in the U.S. to determine what factors they favor when making hiring decisions for their organizations. The results reveal the qualifications employers want in a candidate and the competencies you should develop to get hired. According to the Gallup-Lumina Foundation study:
1. In ten years, business leaders say 55% of jobs at their organizations will require some kind of post-secondary degree, credential or certification.*
In the future, business leaders noted in the survey that they expect a shift in educational requirements for over half of the job opportunities at their organizations. In addition, they foresee that it will be more important, if not already required, that future job candidates possess a post-secondary degree or credential to be considered for any positions.*
2. 84% of business leaders consider a candidate's knowledge as a very important hiring factor, while 79% of business leaders find a candidate's applied skills in the field to be very important when making hiring decisions for their organizations.

Business leaders indicated in the survey that they are looking for candidates with specific skills, experience and knowledge when making hiring decisions. A candidate must be able to possess these key factors to get a good job.
3. In addition to experience, business leaders most want employees to possess strong communication skills, including writing and speaking skills.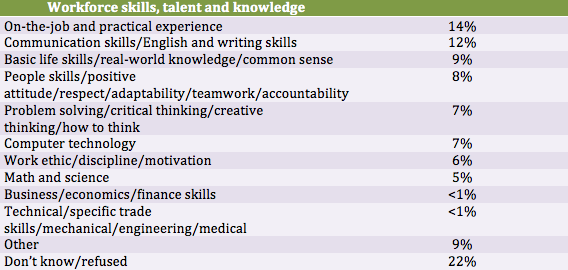 To succeed in the workforce in the coming years, business leaders specified in the poll that employees should develop strong communication skills, including writing and speaking, in addition to the on-the-job, practical experience required in their chosen field.
What does this mean?
If you haven't given much thought to a career plan, then now is the time to start. By creating a plan, cultivating the skills you'll need for your chosen career and including any relevant degrees or certifications, you'll help ensure your future success.
Your future employers are looking for a well-rounded employee; focus on using every learning opportunity to develop the workforce skills that will set a solid career foundation. And when it comes to rewriting that English Composition I paper, again, trust that you are refining your writing, communication and English skills.
Your future self will thank you.
*The Center on Education and the Workforce estimates that 63% of all job openings by 2018 will require workers with college degrees. Source: Projection of Jobs and Education Requirements Through 2018, Center on Education and the Workforce.

Written by Thomas Edison State University