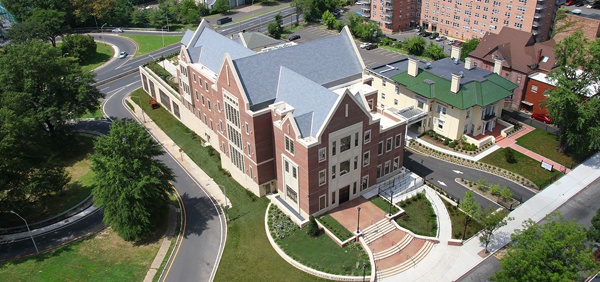 The development of Glen Cairn Hall, which is home to Thomas Edison State University's W. Cary Edwards School of Nursing, has transformed one of Trenton's key gateways in the historic State House district of the city. The site, which was previously home to Glencairn mansion in the late 19th century and the Glen Cairn Arms apartment complex, features views of the Delaware River, Calhoun Street Bridge and the Trenton city skyline.
Over the past two years, the University's cameras captured thousands of images of the construction, and our web specialist edited the footage to create this exclusive video. Watch this time-lapse showing the construction of the building from June 2014 to September 2016, below.
The new 36,360-square-foot building building was designed to reflect the many former mansions that were located along this portion of West State Street. The rear of the parking garage houses a green roof that creates an outdoor space for students and University events while also reducing the flow of rainwater and mitigating the urban heat island effect. The first floor features meeting and conference space, a student advising center and a two-story lounge featuring the reconstructed iconic entrance to the former Glen Cairn Arms. The first floor also includes gallery space to display inventions, artifacts and memorabilia from Thomas Alva Edison donated to the University by John and Eileen Martinson. The second floor houses the W. Cary Edwards School of Nursing, including the nursing simulation laboratories, lecture halls, classrooms and a testing center. The third floor features meeting rooms and additional offices.
Demolition of Glen Cairn Arms was completed in fall 2013. Watch a time-lapse of the long-vacant building's demolition to make way for the new Glen Cairn Hall taken from September 2013 to November 2014.
Learn more about the Glen Cairn Hall project here.

Written by Thomas Edison State University