Over the years, I've frequently heard students grumble about taking a capstone course or project, that one last step before graduation as outlined by their degree requirements.
"Why do I have to take it?"
"Do I really have to take this?"
"What is the point of all this!"
This final course may seem daunting or frustrating, but once it's completed, the Capstone often becomes one of the most rewarding and valuable experiences in a student's college career.
The capstone course is the last class in a program of study. It's called a capstone because it represents a crowning achievement as a capstone does in architecture. For some degree programs, a capstone course may require a project and subsequent presentation; for others, it may include an assessment exam to test interdisciplinary skills (like math, writing, critical thinking, etc.). A capstone may also involve a final research paper exploring a topic of interest, emerging from a student's individualized program of study. Ultimately, a capstone project represents new work and ideas, and gives you the opportunity to demonstrate the knowledge and skills you have gained during your college career.
Not only does a capstone course allow us to substantiate if students are learning the necessary skills needed to continue onto success after graduation (and we've made changes to courses and degree requirements to better assist students in this manner), but the completion of a capstone project can be used for an employment portfolio. By integrating theory and practical experience, your project can set you apart from graduates of other institutions. Imagine walking into a potential employer's office with an applied research project exploring solutions to an issue or problem the organization, or industry as a whole, has been grappling with?
A Capstone's Purpose: Career Advancement
In the field of technology for example, one of the challenges is how rapidly it changes. Jordan Goldberg, mentor and developer of our APS-295 Associate Capstone course, said it helps ensure students are prepared to handle these changes as they start their careers. "Today, it's important to understand the trends early on in the process, and the tools available to develop and deploy new technology," he says. "The Capstone course uniquely brings together students from all majors within the school [of Applied Science and Technology] in an interactive and collaborative fashion to discuss and examine opportunities, challenges and issues related to technology."
Here, students are able to look at real world examples and situations, exchange their points of view based on experiences and discuss potential solutions to problems. "The concept of the capstone course is to provide the essential information to be able to ask the right questions and critically look at nontechnical issues that have the potential to negatively impact the deployment of a new emerging technology or application," says Goldberg. "Ultimately, this will prepare the student for a technical leadership role in their area of study as they complete their degree."
Thomas Edison State University offers Capstone courses in several of our degrees: LIB-495 Liberal Arts Capstone is required for a Bachelor of Arts degree, and APS-401 Current Trends and Applications is required for our Bachelor of Science in Applied Science and Technology degree. Our newest course is the APS-295 Associate Capstone, required for the Associate in Applied Science and our Associate in Science in Applied Science and Technology degree programs. These courses have engaged students to pursue intriguing projects, indicative of their career pursuits, including:
Classroom accommodations for elementary age students with attention deficit disorder
The theoretical impact of a present-day conflict between North and South Korea on the U.S.
Evaluating public awareness of privacy issues surrounding modern technology
On Your Own Terms
In any college degree, there are courses you have to take to fulfill the general education requirements for your degree or area of study. And a capstone project, while relative to your major, allows you to choose your own subject in that discipline. When I was a graduate student studying American History, my capstone project afforded me the opportunity to research a topic that I never solely focused on in any of my courses, but was fascinated by all my life, Abraham Lincoln.
I delved into an intense study of how the narrative of President Lincoln's life had changed throughout the course of history, depending on when and who was writing the biography. This was the most fun I'd ever had taking a college course because I was able to read and write about a topic I was passionate about. Meanwhile, I was able to show off the skills I'd gained during my years in college.
So if you are required to take a capstone course, I understand if you want to grumble about it a little while. But when it's all done, get ready for the most exhilarating feeling ever. I promise.
Are you currently working on a capstone project? Share your experience and advice in the comments below!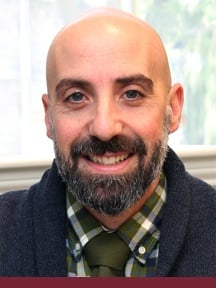 Written by Donald Cucuzzella

Donald Cucuzzella is the assistant dean of the School of Applied Science and Technology, specializing in the University's aviation and allied health programs. Between helping students figure out how professional certifications can apply as college credit and what it's like taking online courses, his goal is to help students feel comfortable coming back to college.