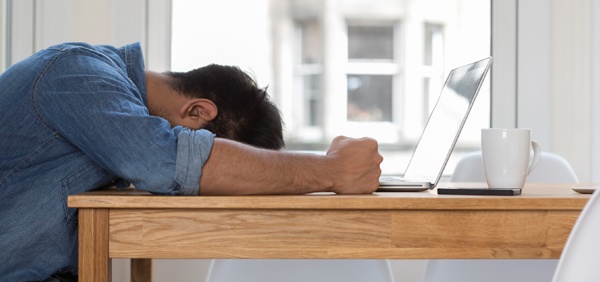 When you have multiple papers and projects due, research topics to brainstorm and exams to study for, time management, or actually finding any time at all, can be a real challenge. How can you keep up with all your assignments, avoid distractions and stay focused?
To increase your productivity and concentration, there are a collection of resources available to you as a Thomas Edison State University student. From 24/7 tutoring to citation shortcuts, use these tools to make your school life easier and get the job done in the time you do have.

Turnitin
This free online plagiarism prevention service offers timely feedback and suggestions to help you improve your writing and citation skills. Turnitin matches the content of your assignment against online resources, research papers, student papers and published articles in order to detect unoriginal content or citation errors. If you have questions on how to use the service, create a profile or submit an assignment, you can review the Turnitin FAQs for Students.
Time Saved: Two hours spent reading the same sentence over again and second-guessing yourself. Even longer if you are faced with allegations of plagiarism.
Smarthinking
Get writing assistance and live, on-demand tutoring help from expert tutors 24/7. As a free online tutoring service, Smarthinking offers the help you need, when you need it. To set up a personal account, you can find a link to the service in each online course you are taking.
Time Saved: A frustrating evening trying to understand how to solve a confusing math problem.
New Jersey State Library
As a student at the University, you can get special, free online resources through The New Jersey State Library. Register for a library ID card online and get electronic access to the library's databases, electronic journals, eBooks, audiobooks and more.
Time Saved: 20 minutes wondering if a source is scholarly enough for your research paper.
Virtual Academic Library Environment (VALE)
VALE provides electronic access to research databases, e-journals and data, digitized primary sources, and newspapers, as well as the world's largest collection of dissertations and theses. Use ProQuest and EBSCOhost to find relevant sources, and click on the "Cite" link to generate a citation according to the style you need. You can access VALE through myEdison®, under the "Educational" tab in "My Resources."
Time Saved: Ten minutes figuring out how to properly format an APA citation for a single journal article.
LearningExpress Library
If you are looking for practice tests, study tips, tutorials or skill-building exercises, the LearningExpress Library is a one-stop-shop for your academic and career needs. Explore strategies and advice on writing and math skills, prepare for graduate school admissions exams and learn key job interview skills. The LearningExpress Library is located in myEdison® under the "Educational" tab in "My Resources."
Time Saved: Three hours spent scoring and assessing your own homemade practice test.
myEdison® Student Discussion Board/Textbook Swap
Often an overlooked resource, the Student Discussion Board/Textbook Swap is a forum to post your perspectives on a variety of topics, such as courses, tests, mentors and much more. Buy and sell used textbooks for courses and TECEP® exams from other students. The open discussions are located under the "Student" tab, within "My Resources" and under "Tools & Forums."
Time Saved: Five minutes per Google search looking for mentor reviews in your upcoming courses.
ProctorU
ProctorU is a convenient testing option that allows you to take a test on your home computer with a live proctor, in real time, 24 hours a day, 7 days a week. To use this option, you must have a webcam, specific computer requirements and audio capabilities. You can schedule an exam with ProctorU through a link available in your course space.
Time Saved: One hour to commute to an appropriate testing location and take a test in the pen/paper format.
Bonus Time Saved: Several hours of panic realizing that you forgot to schedule your final exam, and the grade must be submitted by midnight.
Do you have any essential time-saving tips that other students might want to know?
This article was originally published in August 2014 and has been updated for accuracy.

Written by Kay Howard

Kay Howard is a senior counselor in the Office of Admissions and Enrollment Services and joined the University in 2012. She earned a master's degree from Drexel University and a bachelor's degree from Fairleigh Dickinson University. She is currently writing her life story/autobiography, which anyone can check out once it becomes a New York Times best seller or a major motion picture. Connect with her via email at
[email protected]