I once interviewed a candidate for a job that seemed perfect on paper. His resume was impressive, and his cover letter was interesting. So I invited him to interview.
But I didn't offer him the job because of a mistake that could have been avoided, and one that I couldn't overlook.
So, why?
It came to light during the interview that he researched the wrong company. He was unable to discuss how the position he was applying for fit into the organization he was actually applying to. Needless to say, the interview was awkward for the both of us, and he wasn't asked to return. (I should mention, however, that he has since found a job he enjoys somewhere else, so the story does have a happy ending.)
Searching for your next job can be scary, stressful and exciting all at once, so it's easy for mistakes to happen. But you can avoid typical mistakes by implementing a few job search strategies that have proven useful for me, both as the interviewer and the job candidate. Here are a few tips I've learned over the years that can help you jumpstart your next job search the right way.
1. Build a solid personal brand on social media.
According to a recent survey, 91 percent of hiring managers and recruiters use social media to screen candidates. That means employers are looking at your social media profiles whether you know it or not, so how you position yourself can drastically impact your job prospects. A good rule of thumb is to not post anything that you wouldn't want your grandmother to see. That includes using appropriate images and good grammar, and participating in thoughtful conversation.
These days, having a robust LinkedIn profile is as important during the job search as a resume or cover letter. It is your chance to really expand upon your resume and skills as well as provide work samples and endorsements. Highlight your professional and volunteer accomplishments. When you get to the headline on your profile, really think about who you are as a professional and not necessarily your current job, if you have one. Most importantly, include a professional photo that reflects the impression you are trying to convey – skip the vacation, party or pet pics you post on Facebook – and select an image that plays to your strengths, qualities and abilities. Then, start reviewing your LinkedIn network for connections that might be able to help you on your job search.
2. Customize your resume.
Brush up your resume and be prepared to tailor it for each individual job you apply for. That includes focusing more resume real estate on the skills and abilities that the posting seems to prize above the rest. Don't just send a blanket resume across every job posting you see; be attentive. During my last round of hiring, I received more than100 applications. I started narrowing that number down by declining to review anyone without a cover letter. So be sure to review the application criteria carefully in case there are any specific requests, because you don't want to miss out on a job opportunity due to an avoidable technicality.
3. Do your research.
Where do you want to work? Do you have a specific industry or set of businesses you want to work for? Check out their websites for job postings, and Google their competitors to find more potential job opportunities in the same industry or field. Learn about the company before you apply, not before the interview stage. If you are given an interview, dig more into the company's website and social media pages to get a feel for the work and culture. Research any relevant terms or issues the company may have as well as reach out to any current employees for insider information, should you know any, to be as prepared as possible.
4. Determine the best way to follow up.
Sometimes it may feel as if your application has been thrown into the wind, and you want to find out if it has been received and reviewed, or if you will get a phone call for the interview. Tread carefully on the follow up. Do you know someone at the company that can put in a good word for you? If so, ask them if they can reach out to the hiring manager on your behalf and put in a good word. If you don't know anyone at the company, patience may be your best bet. Hiring managers are often overwhelmed with not only reviewing resumes, but they are frequently doing the work for the position they are hiring for as well as their own daily responsibilities. If you don't hear back after a week or two, it's ok to send an email and reiterate your interest in the position.
5. Assess your skill set.
Is the position you are applying for require a set of skills outside of what you currently possess? If so, think about ways to expand your experience in those areas to strengthen your resume. Consider volunteering or becoming an active member in an industry-related organization, or pursuing other learning opportunities, like a master's degree or certificate program. Or, perhaps there is another area that interests you with your current employer. Talk with your supervisors or HR department to learn what opportunities might be available to you.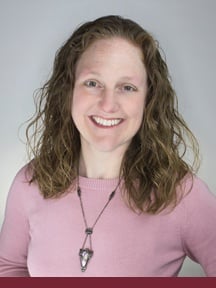 Written by Meg Frantz, MPSL '20

Meg Frantz is the director of Alumni Engagement, with a background in marketing for nonprofit art organizations and higher education. She holds a master's degree in public service/nonprofit management from TESU and a bachelor's degree in communications with an emphasis on theatre arts from Susquehanna University. Connect with her via email at mfrantz@tesu.edu.