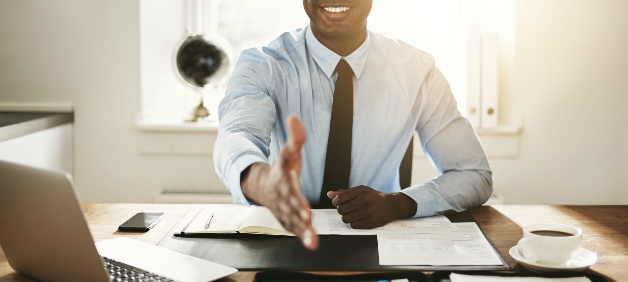 In 2016, more than 180,000 active-duty personnel and officers separated from their respective branches of service. For some it was due to an expiration of term of service (ETS) and early release or retirement. For others, it could have been due to disability or other type of separation.
Whatever the reason, transitioning from active duty to civilian life can be a difficult experience. Add the pressure to find a new job, and the transition can become a burdensome challenge. This is especially true when it comes to the interview process.
Job interviews can arguably produce some of the most anxiety. With so many interview methods, such as in-person, over the phone or video conference, each has its own set of questions that can go in any direction. It can be hard to know where to start preparing, but it's important to remember that the right interview skills and a positive attitude can bring a civilian job within your reach.
Here is some of the best advice I've found throughout my own career when preparing for an interview, or conducting one, as former member of the military who made the transition to a civilian career.
1. Practice your interview skills.
Like anything else worth pursuing, interviewing takes practice. Take the opportunity to interview even when you are happy where you are currently working. While on active duty, look for special duty opportunities that require a resume and an interview process. These efforts will serve as good practice for when you get ready to transition.
2. Ask for feedback from trusted mentors on your resume.
Ask civilians you know and trust who are not affiliated with the military to review your resume for clarity. This can help to clear up any inconsistencies or confusing areas for civilian employers who may not fully understand your background and experience. You want anyone scanning your resume to clearly understand your qualifications.
3. Seek out friends who have recently gone through the transition process.
These people can offer crucial advice and feedback about what they may have experienced. Ask what worked for them (and what didn't).
4. Treat your interview like a normal conversation.
Try to relax and develop a rapport with those conducting the interview. You can prepare for this by practicing questions you find may be difficult to answer first. These are the questions you hope they don't ask. Work on answering these questions in front of the mirror or to someone with whom you feel comfortable.
5. Research the organization ahead of time.
Learn some information about the company so you can share it during the interview to show your understanding of the company and how the position for which you are interviewing fits into the overall business. It is also important to make sure the interviewer understands your availability timeline based on your separation date should you be offered a position or advance in the interview process.
6. Have 2-3 thoughtful questions prepared to ask near the end of the interview.
Prepare a brief introduction and closing so that you'll feel comfortable and appear prepared during these awkward interview transitions. Practice with someone in your family or a close friend who will provide you with honest feedback.
7. Focus on your skills and abilities.
Discuss how they will assist the organization in achieving its goals; don't be afraid to brag. The interviewer wants to know exactly what you can bring to the table. Briefly share some of your experiences and success stories.
8. Listen carefully to the questions posed during the interview.
Do your best to answer the questions – not talk around them. Keep your answers relatively concise and try not to stray off topic. This shows your ability to organize your thoughts quickly.

Written by
Craig Smith

Craig R. Smith is the director of Veteran Affairs and is responsible for all aspects of the University's veteran programs. Prior to joining the University in 2013, Craig served as an aerospace science instructor for the Air Force JROTC program at Vineland High School. He is an U.S. Air Force veteran who has served in a variety of roles while on active duty from 1991-2012, directing enlisted and officer professional military education (PME) programs for Europe and Africa while serving as the International Training & Development Director for the United States Air Forces in Europe. Craig has also developed and implemented policy and coordinated PME matters with senior leaders, the Air Force Personnel Center and Headquarters United States Air Force. He holds a Master of Business Administration degree from Centenary College and a Bachelor of Science degree in Workforce Education and Development from Southern Illinois University at Carbondale.