Transferring from a two-year to a four-year college can feel like a big leap. Like most students, you may have some hesitations and questions.
What needs to be done?
How can I make the transfer process as smooth as possible?
What can I do to make sure I'm on the right track to earn a bachelor's degree?
These questions are not uncommon.
As a graduate with an associate degree from a New Jersey community college, the Comprehensive Statewide Transfer Agreement guarantees your degree will be fully transferable as the first two years of a baccalaureate degree program at any New Jersey public four-year institution. While this agreement can take some of the guesswork out of transferring to Thomas Edison State University, you still want to ensure you're making the right decisions for you.So if you are looking to simplify the transfer process, we've put together a detailed list of steps you can follow to get started earning your bachelor's degree in no time.
Step 1: Fill out and submit an online application.
To begin your application online, you will be asked to create an initial profile that details your contact information and the degree program you are interested in. Within this account, you can check on your application status. You can also register for any admissions events and learn if the University is planning to visit your college or local library.
The application is comprised of 7 parts and, depending on what program you are applying for and your military status, you may not need to complete them all.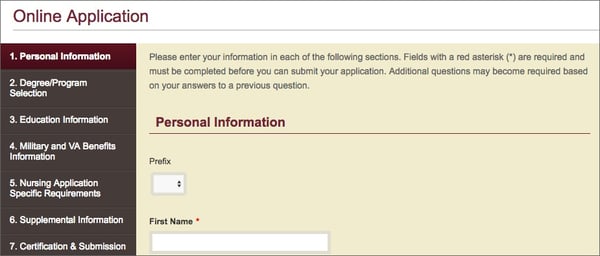 Depending on your computer skills, you can complete and submit an online application in about seven minutes or less. At this point, you won't need to consult your transcripts or other documents for answers. You do not need to take the SAT or ACT. The questions will ask what colleges you previously attended so we know which transcripts to look out for, if you have any licenses or certifications, and when you plan on starting. Confirm if you are using any military and VA benefits. If you are applying to our RN to BSN nursing program, confirm that your RN license is current and valid.
Add your digital signature and pay the $50 application fee, if required, and you're done. You have up to 12 months to enroll before your application expires.
Step 2: Send official transcripts and other documentation for evaluation.
The University only evaluates official transcripts, so you will want to contact each college you attended, or streamline the process by requesting your transcripts be sent electronically through these secured electronic delivery systems. Use this handy undergraduate application checklist to help you keep track of all the transcripts and documentation you sent for evaluation.
The University accepts up to 90 credits from regionally accredited two-year colleges. And since a bachelor's degree typically requires 120 credits, that's a nice chunk toward your degree requirements.
Also, if you took any AP exams or credit-by-exam programs like CLEP and DSST, send in the score reports. As long as you earned the minimum score required to earn credit and they are not repeats of courses you already took (and passed, as noted on your transcripts), they will count toward a bachelor's degree.
Step 3: Consult the University's list of licenses and certifications to earn additional credit.
The University has reviewed a number of professional licenses, certifications and organizational training programs for college credit. Find that comprehensive list here as well as details about college credit awarded and related degree programs. If you have successfully completed one or more of these credentials, send in the appropriate documentation for evaluation.
Depending on your military training, you may be able to apply college credit to your degree program. Service members and veterans of the U.S. Army, U.S. Navy, Marine Corps and the U.S. Coast Guard can submit a Joint Service Transcript (JST). Service members and veterans of the U.S. Air Force can submit a transcript from the Community College of the Air Force. If you left the military before 1986, submit a notarized DD 214 form.
You can apply these credits to any part of your bachelor's degree program, including the area of study, as long as they are appropriate and do not exceed the limitation of transferrable credits from any one source
Step 4: Celebrate!
Once your application is completed and all your transcripts and credentials sent, you will hear back from admissions with three to five business days. You will also receive a phone call and email from the admissions team officially welcoming you as a new student to the University.
Step 5: Carefully review your Academic Evaluation.
After you are accepted to the University, your customized academic program evaluation will be completed approximately 25 business days from the date your transcripts and credentials have been received. Your academic evaluation is an invaluable planning tool that shows which credits, exam programs and licenses/certifications have transferred to the University and where they fit into your degree program, as well as the courses you still need to take to fulfill your degree requirements.
You will receive an email letting you know when your academic evaluation is completed, and you can review it by logging into the University's student information system, Online Student Services. As a new student, you will need to create an account. You can find instructions on how here.
Step 6: Familiarize yourself with the University's course options and methods for earning credit.
Understanding your options for earning credit will help you figure out which course methods will help you earn a degree at the pace that makes sense for you. You can choose any one or mix of options that fit your circumstances and learning style to earn your bachelor's degree.
Step 7: Create a degree plan.
A degree plan includes credits already accepted and applied toward your degree plus the credits that you want to earn. An academic advisor can help you better understand your current credits and how they apply to your chosen program so you can complete your degree and plan ahead. Think of it as "asking for advice" or getting preapproval before you register and pay for a course. Getting your courses preapproved ensures that the credits you earn will apply to your degree and eliminates the possibility of taking a course for credits you have already completed and fulfilled.
If you want to discuss your area of study in-depth and have lots of questions, make an appointment with an advisor through the University's online appointment scheduling system. If you have a question that may take less than 10 minutes to discuss, like elective options or general education requirements, you can call the Advising Expressline at (609) 777-5680, Monday through Friday, 11 a.m. to 1 p.m., Eastern Time, to speak with an advisor quickly without making a formal appointment. If you find it easier to email your questions, you can submit a HelpDesk Ticket or email them at academicadvising@tesu.edu, and an advisor will get back to you with an answer.
Whenever you speak or email an advisor, always include your first and last name along with your 7-digit University ID number. This way, an advisor can quickly find your student record and get you the answers you need promptly.

Written by Thomas Edison State University