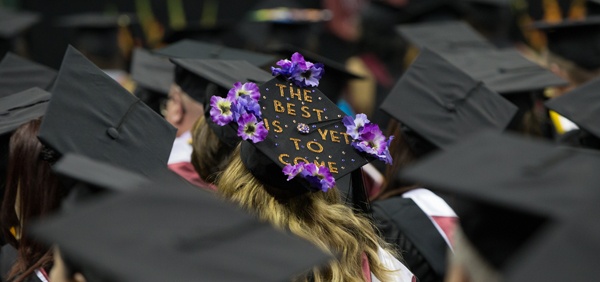 Once you have submitted your Application for Admission and arranged to have your official transcripts sent to the University, or if you are newly enrolled, you may need some guidance on the next stages. Sometimes, just getting started can be the toughest part. So if you are unsure what to do after you apply or enroll, here's what to expect next.
1. Look out for your personalized Academic Evaluation.
After completing your application and submitting your transcripts, the University creates a personalized academic evaluation for you, to determine how many credits you need to complete your degree requirements. Many students think that the evaluation process begins from the time their transcripts arrive in the Office of the Registrar. However, though this is an important step, the evaluation process actually begins after our receipt of your University Application.
You can expect your Academic Evaluation to be completed within 20 business days. Once your evaluation is finished, you will receive an e-mail from the Office of the Registrar directing you to review this document through your Online Student Services (OSS) account. Once you receive your Academic Evaluation, review it thoroughly to see where your previous credits have been applied and what remaining credits are necessary for you to complete your degree.
2. Apply for employer-sponsored tuition assistance, scholarships and/or financial aid.
While you are waiting for your Academic Evaluation, apply for employer tuition assistance, or relevant scholarships and financial aid, if applicable. You can also arrange your Annual Enrollment Fee payment with the Office of the Bursar or use the time to familiarize yourself with the enrollment requirements of your degree program.
3. Make an advising appointment to select courses.
If you need guidance in selecting courses that will fulfill your remaining credits, make an advising appointment with the Office of Advisement. In order to keep your advisement consultations as productive as possible, make this appointment after you have had a chance to review your Academic Evaluation.
To speak to an advisor, or make an appointment, you can call the Advising Expressline or schedule an appointment through the University's online scheduling system. You may also schedule an appointment through myEdison® once you have officially enrolled by submitting a Helpdesk ticket. You and your academic advisor can then begin selecting courses that best suit your program plan.
4. Register for your courses.
You can view the University's many courses by visiting the Courses and Schedules page on the website, which lists the many course formats the University offers and a number of different academic schedules. Keep in mind when reviewing the online course syllabus that some requirements may change once your course is officially underway.
Once you have selected your courses, you can register for them anytime via Online Student Services, by phone (609) 633-9242 from 11 a.m. to 3 p.m. Eastern Time or via fax (609) 292-1657.

Written by Jennifer L. Stark

Jennifer Stark is the associate registrar in the Office of the Registrar. She earned a bachelor's degree from Monmouth University and completed her MSM from Thomas Edison State University in 2016.